Can the Buckeyes stop the Fighting Irish - Photo: Buckeye50.com
Buckeyes Prepare to Battle the Fighting Irish
Before we get into the meat and potatoes of the 4th annual Battlefrog Fiesta Bowl there are two questions I would like to address.
The first is, what the hell happened to Tostitos? For as long as I can remember, this has always been the Tostitos Fiesta Bowl. Tostitos was the sponsor of this game since 1996, more than half of my life and nearly all of my time as a watcher of sports. As an addendum to that question, I guess I also have to ask how the names of these bowls work. Can something really be the 45th of something when you remove or change a key component of the name? I don't know, but it's weird and no sir... I don't like it.
My second question is less serious, but no less important. What the hell is Battlefrog? Is it a company? Is it a thing? Did somebody screw up the name of one of the most difficult NES games ever created? How would Rash, Zits, and Pimple feel about being confused for frogs when they were very clearly toads. I mean, just look at them. Are these Battlefrogs? No, they are Battletoads. Shame on you for confusing the two supreme overlords of the Fiesta Bowl.
Now, moving on to the reason why you're all here.
The Buckeyes come into today's game on a bit of a down note. After losing to Michigan State and the proper dominoes not falling into place the following weeks, the Buckeyes were left on the outside looking in to the college football playoff as the 7th ranked team in the nation. As a consolation, they instead will get to face off against the 8th ranked Fighting Irish of Notre Dame.
Sure, this isn't exactly the outcome we all wanted or the game we expected the Buckeyes to be playing in back in August, but it is the hand we have been dealt and it is time to make the best of it. Truth be told, this may actually turn out to be one of the more entertaining match-ups of the 2015 bowl season. The Buckeyes sport a bevy of talent on both sides of the ball while Notre Dame spent the majority of the season inside of the selection committee's top four. Had things played out slightly different, this could have been either a playoff match-up or the national title game.
The match-up alone isn't the only reason to tune in and watch this game. There is also the fact that this will serve as the swan song for many players who will go down as Buckeye legends. Among the players likely making their final appearance in the Scarlett and Gray are, in no particular order:
Braxton Miller, Cardale Jones, Exekiel Elliot, Joey Bosa, Taylor Decker, Aolphus Washington, Michael Thomas, Vonn Bell, Joshua Perry, and Darron Lee.
Will Braxton Miller put on a show in his final game? - Photo: USA Today
Those are players that are likely to enter the draft as highly rated prospects. That's not including other players who have hit their three year window and may make the jump to the NFL on a whim or other seniors that have no choice but to move on. So this is it. This is most likely the final chance to see many of your favorite players before they're gone. So basically, enjoy this one, folks.
Of course, as is the case with any bowl game with non-championship implications, one has to always wonder where the players' heads are going into the game. In other words, is this a game they really want to be playing in? Will they simply go through the motions with a lackluster performance?
I believe the answer to all of those questions is a resounding yes.
This team underwhelmed all season long and faced questions about how good they really are, about their toughness, about their heart. With how everything played out and feeling like they deserved a chance to defend their title, I firmly believe this team is going to come out fired up and ready to go.
It won't be easy though. As previously mentioned, the Fighting Irish are a talented team. Under the leadership of head coach Brian Kelly, Notre Dame is once again at the doorstep of college football's elite. Not only that, Kelly is that much closer to establishing himself as one of the truly elite coaches in all of college football. A win over the vaunted Urban Meyer would only help to further cement his reputation as a big game coach.
Leading the way for the Irish will be sophomore quarterback DeShone Kizer. In Brian Kelly's high powered offense, Kizer has developed into an intriguing quarterback prospect. Along with standout receiver Will Fuller, the Irish have the ability to put up some huge offensive numbers. They've done it time and time again in 2015.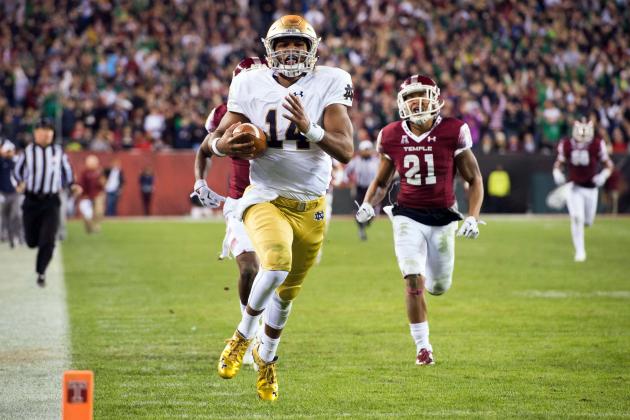 DeShone Kizer on the move - Photo: Bleacher Report
Of even greater concern for the Buckeyes should be Kizer's mobility. He is not a threat to run in the same way as say Braxton Miller, but he can run when he needs to. We saw numerous times this season when the Buckeyes struggled with mobile quarterbacks. So while protecting themselves from the deep ball will be important, containing the edge and not over-pursuing will be just as important if they want to have success on the defensive side of the ball.
Offensively, this is yet another opportunity for the Buckeyes to flex their muscles. Notre Dame only twice held teams to single digit point totals and routinely allowed teams to rack up big point totals. For the season, they allowed an average of 22 points per game. That's not terrible, but would seem to indicate that putting up a big point total is entirely possible.
So what should we expect from the Buckeyes? I really do believe this has the makings of a big time showcase performance from the Buckeyes. All of the key plot points are there: big time opponent, national stage, and a point to prove. Urban Meyer will have his team ready to go and because of that this has all of the makings for a dominant performance from the Buckeyes.
A dominant performance that will lead to an offseason of wondering what could have been.