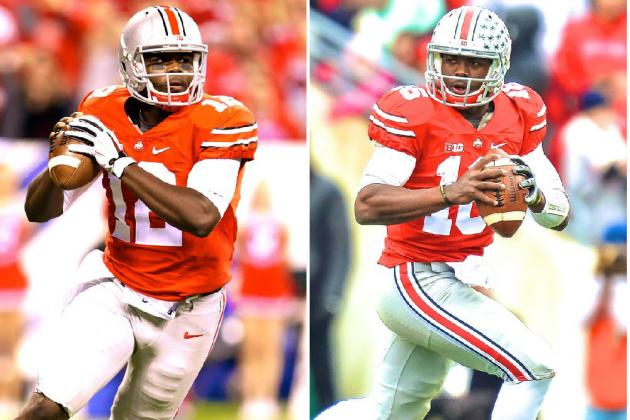 Cardale Jones and J.T. Barrett Credit: Bleacher Report
Whether It's Cardale Jones or J.T. Barrett, the Buckeyes are in Good Hands
It seems as if the current quarterback situation at Ohio State has been talked about ad nauseam by pretty much every media outlet in the country. From ESPN, Sports Illustrated, and Fox Sports to 97.1 The Fan in Columbus, everyone is infatuated with who the starter will be for the Buckeyes come Monday night.
As the old adage goes, if you have two quarterbacks, you have no quarterbacks and in most cases that is certainly true. Just take a look at nearly every QB competition since the dawn of time. They almost never work out well. However, that is not necessarily the case when it comes to the Buckeyes. Whereas most quarterback competitions stem from either less than desirable results on the field the year before or a veteran against a rookie, none of that applies down in Columbus.
Cardale Jones - Credit: Andrew Weber, USA TODAY Sports
In both
Cardale Jones
and
J.T. Barrett
, Ohio State has two of the most talented signal callers in the country and two QBs that would be starting in almost any other program in the country. This is not picking the best available option from a pu pu platter. This is choosing between lobster and filet mignon. There is no wrong choice. Both Barrett and Jones have done enough with their play on the field to present a solid enough case to get the nod.
With each and every passing day, though, the picture becomes a bit clearer. First, Barrett was named a captain while Jones was not. This has led many fans to believing that this has somehow given Barrett the edge. Then, just this past week, Urban Meyer provided some insight into his thought process.
"I would anticipate that throughout the course of year we'll play both quarterbacks"
But what exactly does that mean? In what capacity should we expect to see both Barrett and Jones on the field? Are we looking at a dual quarterback system? Will each QB alternate series, quarters, or even games? Can we expect to see each player utilized specifically during situations that play to their strengths? How exactly is all of this going to work?
The most likely scenario would see Meyer alternating quarterbacks by quarter before ultimately settling on one to finish each game, if necessary. Each game would then serve as an extended preseason, allowing Meyer to tinker with personnel groups, formations, and play calls until finally settling on "the guy" heading into the college football playoff. With the relative ease of this year's schedule, at least on paper, this would appear to be the direction Meyer will take.
J.T. Barrett - Credit: Photo : Getty Images
Then again, I'm not the one being paid to make this sort of decision, nor am I anywhere near qualified enough to do so. It is just as likely that Meyer will settle on one primary quarterback between Barrett and Jones with the other relegated to mop up duty. By "anticipating they will play both quarterbacks" could just as likely translate into, "This is football. Injuries happen. Both will probably see the field at some point because of this."
If I were a betting man, I would wager that Barrett will get the job and serve as the team's primary play caller with Jones serving as a change of pace option. The poise and leadership skills shown by Barrett throughout the 2014 season combined with his consistency from game to game are simply too great to ignore. And while Cardale Jones went on a historic three game run, the sample size still remains too small to form a proper opinion or to entrust over the course of a full season.
That being said, regardless of the decision Urban Meyer makes in regards to J.T. Barrett and Cardale Jones Ohio State is primed for success in 2015. The amount of talent surrounding the quarterback, no matter who it is, will be too much for most teams to stop. But, until we see the Buckeyes take the field on Monday night, the final decision will remain one of the most hotly debated topics in recent Ohio State memory.