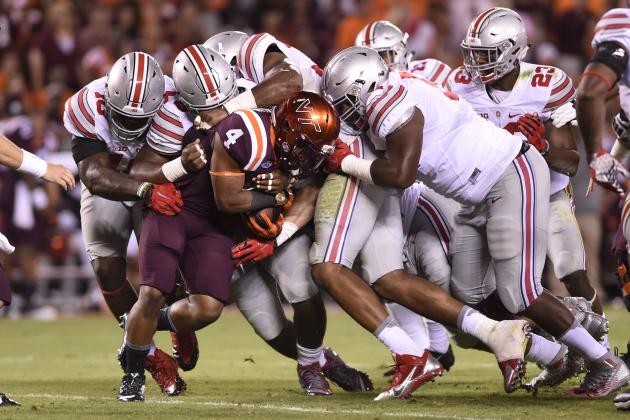 Ohio State's Silver Bullets Photo: Bob Donnan-USA Today Sports
Home Opener Brings Unfamiliar Foe to Columbus
What: Hawaii Rainbow Warriors vs. Ohio State Buckeyes
When: 3:30 pm
Where: Ohio Stadium, Big Ten Network with Kevin Kugler, Matt Millen and Lisa Byington on play-by-play

The Buckeyes are riding high following Monday night's 42-24 victory over the Virginia Tech Hokies. They'll continue to ride that wave of positive emotion this afternoon when they welcome the Hawaii Rainbow Warriors for the first of seven home dates on the schedule. Compared to Monday's physical showdown with the Hokies, the Rainbow Warriors figure to be one of, if not the easiest opponent on the 2015 schedule.
That's not meant to be an insult to the Rainbow Warriors. It's simply a statement of fact. Hawaii has never been a football powerhouse and likely never will be. The Buckeyes, on the other hand, might have what is arguably one of the most talented rosters ever assembled on the college level. That is not an embellishment. Today's game figures to be more like a scrimmage similar to last year's 66-0 drubbing of the Kent State Golden Flashes.
That being said, despite the discrepancy in talent on both sies of the football, there are still a few things we can look for as an inicator of what's to come in 2015. What exactly are these "things?" Well, luckily for you I'm here to provide you with all of that and more as I preview the match-up between the Ohio State Buckeyes and Hawaii Rainbow Warriors.
1. When will we see J.T. Barrett?
Barrett made his 2015 debut on Monday night well after the game had been decided. In his limited action, one full series and two plays of another before a turnover ended his night, he looked 100% healthy and every bit like the player we grew to love in 2014. His 40 yard mad dash and 26 yard TD pass to Michael Thomas were a thing of beauty.
Given the relative ease with which the Buckeyes should be able to handle the Rainbow Warriors, Barrett is going to get in the game. The only question is, "when?" Will we see him alternate with Cardale Jones? Unlikely, but I wouldn't rule it out given the circumstances. The more likely scenario would see Barrett play a much more expanded role, perhaps even the entire second half, should the Buckeyes put things out of reach by half-time.
Given Barrett's time left on campus, this might not be a bad thing. Such a situation could allow Barrett the opportunity to build legitimate in-game chemistry with the skill players he may be sharing the field with in the years to come, i.e. Johnnie Dixon, Parris Campbell, etc. It may seem like insignifcant garbage time, but there is value to these type of situations.
2. With the return of Joey Bosa, what role will Sam Hubbard play?
For those of you who might not be fully aware, Sam Hubbard is a beast. That was on full display Monday night as he was tasked with filling the void left by the suspended Joey Bosa. With the return of Bosa, where does that leave Hubbard in terms of the defensive rotation and playing time? How do you not fine situations to put a guy on the filed that can do this...


Seriously, Hubbard is a physical speciman if ever there was one. In high school, he roamed the defensive backfield at safety. Once he got on campus, Urban Meyer and the coaching staff tried to move him to linebacker. After bulking up to 265 lbs on his 6'5" frame, the decision was made to put him on the line. Safe to say it was a great decision as Hubbard racked up four tackles, a sack, and numerous disruptions of the Hokie quarterbacks.
With the return of Bosa to the lineup, Hubbard figures to see his playing time diminished, but by how much? It's hard to imagine defensive coordinator Luke Fickell not finding time for Hubbard on the field. Hubbard's time will surely comes, but with his performance on Monday combined with the continued praise from coaches and teammates, that may be sooner rather than later.
3. How will Urban Meyer handle the returns of Jalin Marshall, Dontre Wilson, and Corey Smith?
Urban Meyer has made no secrets about the current state of his much ballyhooed crop of receivers. Each week of practice is a tryout and with that comes the expectation that each will perform to the best of their abilities in order to win playing time each Saturday.
Ok, but what does that mean for today's game against Hawaii with the return of three suspended receivers, all of which played significant roles in 2014 and figured to do just as much, if not more in 2015?
It's clear from Monday's performance that the Buckeyes can survive without Marshall, Wilson, and Smith. The combination of Braxton Miller, Michael Thomas, Ezekiel Elliot, Curtis Samuel, and the rest is too much for most teams to deal with. Combine that with the stupidity of the situation revolving around their one game suspension and playing time is no guarantee for any of them. Will Meyer send a message against Hawaii, limiting the playing time of the three (Wilson may not play given the state of his still recovering foot injury)?
I, for one, would not put that past him. In fact, the only player I could see having any significant time against Hawaii could be Marshall on punt returns, and not because he is great at them. Rather, putting Marshall on punt returns limits the exposure of Ezekiel Elliot, who was foolishly inserted repeatedly as the punt returner on Monday night.
4. Can the Buckeyes avoid lulling themselves to sleep?
It was evident on Monday night that the Buckeye got bored and as a result got sloppy, particularly in the second quarter then the Hokies jumped out to a 17-14 lead on three straight uncontested scores. Can they find a way to avoid falling into that same pattern against the Rainbow Warriors, or will they allow them to hang around longer than they should be able to?
Defensively, the Buckeyes failed to maintain their defensive responsibilities in the second quarter Monday night. During the Hokies' 17-point onslaught, they repeatedly over-pursued the ball, failed to contain, and lost their men in coverage. It was inexcusable for a team with the pedigree of the Buckeyes, but may have been more the result of rust than a larger issue.
Offensively, the Buckeyes got too cute with their play calling. Quarterback read options with Cardale Jones, abandoning the run with Ezekiel Elliot, and a concerted effort to get Braxton Miller involved in the offense led to stalling and sloppy play all around.
Yes, that dedication to getting the ball into the hands of Braxton Miller eventually paid off, but until his epic spin move in the third quarter, direct snaps out of the shotgun seemed like a waste of time rather than useful endeavor. As a reult, in the second quarter they looked unfocused and much too passive. That all changed after half-time, but up until that point many people were questioning what they were watching.
After experiencing a brief scare on Monday, I would doubt if the Buckeye will allow themselves to fall into the same type of trap against a much lesser opponent. This team is too good and too focused on what they are trying to accomplish to let that happen again.
5. How will Parris Campbell rebound after a tough debut?
Parris Campbell had a rough go of it Monday night in his first taste of on-field action for the Buckeyes. The red-shirt freshman dropped what would have been an easy touchdown on a slant early in the first quarter and then dropped his second target later on in the quarter which led to a missed field goal. In his defense, that was a catch and fumble that he immediately fell on, but the referees inexplicably ruled it incomplete after turning and taking four steps.
Those were the plays that stood out and the one's that undoubtedly led to criticism from fans on Twitter, myself included at the time. It's those type of plays that have the ability to linger and can cast doubt in a young player such as Campbell, regardless of the talent level.
However, what many people fail to realize was the impact Campbell made on special teams, particularly on punt coverage.
Campbell was repeatedly the first player down the field and able to prevent Virginia Tech standout Kendall Fuller from making any sort of impact in the return game. When he did anything other than take a fair catch on a punt from Cameron Johnston, Campbell was there to let him know it was a bad idea.
With the return of serval players from suspensions, it's unlikely that Parris Campbell will see much in the way of playing time at receiver or H-back in any situation other than garbage time. However, his continues impact on punt coverage, an area that is often highly overlooked by casual fans, will be invaluable as the Buckeyes get further into the meat of their schedule against the Big Ten.